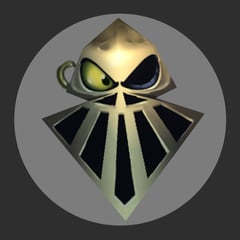 Etienne Beschet [aka Vexod14]
Dad of Star Wars - Redemption
Valence, France
Summary
Hi, I'm a CG artist working mainly in the game industry, I love doing both ConceptArt of characters & environment, and I always enjoy doing some 3D handpainted or PBR models =)
I'm always focused on improving my skills or discovering new techniques and awesome software packages
I work on several personal projects alone or with friends, the most important one is a kind of a fan-made game & trailer based both on the clone wars & star wars ep3 story, called "Redemption" at the moment
And from early May 2019 to Late December 2021 I've been extremely honored to be part of the excellent team Nukeygara, creators of the wonderful Akeytsu =)
Skills
Compositing
Concept Art
Digital Painting
3D Animation
3D Modeling
Character Modeling
Digital Sculpting
Environment Modeling
Facial Rigging & Animation
Texturing
UV Mapping
Character Animation
Drawing
PBR Texturing
Texture Baking
Handpaint
Software proficiency
Productions
Video Game

Akeytsu 2019-2021 (Rig/Skin/Animation Software, PC/Mac)

Year

2021

Role

Character Artist, 3D Animator, Tech Artist

Company

Nukeygara

Video Game

Gear Club Unlimited 2 (Unity, Nintendo Switch)

Year

2018

Role

Freelance Environment Artist ( Model/Optimize/Unwrapp + integration in Unity3D ), Concept Artist

Company

Eden Games

Video Game

The Burning Descent - Virutal Reality Game for HTC Vive/Occulus (UE4, PC)

Year

2017

Role

Environment & Props 3D Artist (All aspects + integration/LevelBuilding), Concept Artist

Company

RyseUp Studios

Movie

Les Voyages Fantastiques de Téo et Léonie - Realtime Trailer (UE4, PC)

Year

2015

Role

Environment/PBR Model/Texture Artist, Sculpting, Lightmapping

Company

Kenzan Studios

Video Game

Le Voyage de Léo - The Cryptoporter (Unity, PC)

Year

2013

Role

Concept Artist/Modeler on Props/Environment, Level/Game Design, Lighting/FX, Project Manager

Company

The Cave/TousCoProd

TV Production

Le Voyage de Léo - Trailer (3dsmax/MentalRay)

Year

2013

Role

Concept Artist/Modeler on Props/Environment, Set Dressing, Lighting/FX, Animation, Compositing

Company

Bellecour Ecole d'Arts/TousCoProd
Experience
Freelance 3D Props Artist at Old Skull Games

Lyon, France

Worked for an unannounced game project as a 3D Props artist. My roles were :

- sculpting (ZBrush)

- low/retopo/uvs (ZBrush/3dsmax)

- bake (MarmosetToolbag)

- texturing (3D-Coat)

Freelance 3D Character Artist/Rigger/Animator at 3kelo

Paris, France

Worked on the game Vyder as character artist, rigger/skinner & animator. My roles were :

- sculpting (ZBrush)

- low/retopo/uvs (ZBrush/3dsmax)

- bake (MarmosetToolbag)

- texturing (3D-Coat)

- rig/skin/anim (akeytsu)

Freelance 3D Environment Artist at Conical

Auckland, New Zealand

September 2022 - November 2022

Worked as a freelance on environments & props art using ZBrush/3dsMax/3DCoat/Unreal Engine 5, from sculpt to integration, shading, texturing...etc, for the game project "Faeborne"

Freelance 3D Character Artist at Conical

Auckland, New Zealand

May 2022 - September 2022

Worked as a freelance on 3 creatures for realtime purposes, from sculpt to texturing closely following concept arts, for the game project Faeborne

Lead 3D Character Artist at BrandForge

Lyon, France

January 2022 - March 2022

I was in charge of creating 3D busts with a small team of character artists I had to mentor and help on a short-end project, final purpose were renders using Unreal Engine 5.

I also established a production pipeline to answer all needs, and was in charge of the whole integration (import/optimization/shader creation/scene lighting & render setup) and did the bridge with both the client and the programmer

Tech/Demo artist, 3D Animator at Nukeygara

Lyon, France

- showcasing Akeytsu @GameCamp, Lille (FR)

- showcasing Akeytsu @DevCom, Köln (DE) 2019,2020

- showcasing Akeytsu @GIC, Poznan (POL)

- Teaching Akeytsu in 2 masterclasses @École Émile Cohl, Lyon (FR) 2019, 2021

- Teaching Akeytsu in one week masterclass @e-ArtSup, Lyon (FR) 2020

- Providing blog articles, support and promotional shots made with Akeytsu

- Helping on R&D (features, improvements, testing...)

- Animating characters/props

- creating/concepting Characters (including but not limited to : conceptart, modeling, UVs, bake, texturing, rig, skin, and animation)

Creator & Maker of Star Wars - Redemption at Square Phoenix

Chabeuil/Lyon/Valence, France

December 2016 - October 2023

"Star Wars - Redemption" is a fanmade game project inspired mostly by the clone wars TV show and, of course, star wars universe. The project may take place between Ep2 & Ep5 or more, I'm not done yet with the story but bold storylines are set.

The game takes its inspiration from 3D platformers like Rayman 2 & 3 and The Force Unleashed game series, and also offers space combats on various environments

I make Star Wars-Redemption alone most of the time and on all fields (ranging from conceptart to animation, blueprints, vfx, ...etc, you name it) with the kind help (at some point & when possible) from :

- Thomas Chaumel/Steven Ménager (Animation) ;

- Fantin Gislette/Alexandre Cheremetieff/Thibaut Hunckler/Laurent Dessart (Blueprint/Game Design) ;

- Anthony Daneluzzi (VFX & Technical Art consulting)

NB : 'Square Phoenix" is our little team's name, not a studio =)

Freelance Character Artist at I From Japan - Sony Music Entertainement

Lyon, France

December 2018 - February 2019

I did two exclusive skins ordered by I From Japan (https://www.i-fromjapan.com) for an upcoming game. These skins (GroundBreaker and Cyborg) were based on Syblast. Working with such a great company was a really fresh experience to me, and gave me the chance to better my skills as a character artist.

Game published by Sony Music Entertainment

Freelance Character Artist at Nukeygara

Lyon, France

I had the pleasure to work with the team behind Akeytsu as a Character Artist during a short period of time, I worked first on a character who then became Syblast, and on a bust for supporting their new Blendshape's system (Based on the awesome SkySurfer by Sergei Katsukov)

Freelance Environment artist at Eden Games

Lyon, France

I worked on Gear Club Unlimited 2 on Nintendo Switch/Unity as Environment/Props Artist. I had to do mostly optimization of existing models and modeling/texturing new assets ranging from small props to big environments, and assemble pieces together in Unity

Freelance CG Artist on Project Ouroboros (teaser) at BANDAI NAMCO Entertainment Europe S.A.S

Lyon, France

January 2016 - February 2016

I worked on a teaser of the "Ouroboros" game project as a freelance artist with Anthony Daneluzzi, teaser was made with Unreal Engine 4. I worked on ConceptArts / Environments / Character / Character & Camera Animation / Compositing / Soundtrack (just arranging)

Freelance Game Artist at RyseUp Studios

Lyon, France

August 2015 - October 2017

I worked on RoboQuest prototypes for RyseUp Studios as a freelancer. I mostly did environment, and if needed character stuff in 2D ( ConceptArt, paintover, texture... ) and 3D ( Modeling, sculpt, baking ). I also worked on The Burning Descent VR as principal EnvironmentArtist/LevelArtist/PropArtist/TextureArtist, ConceptArtist, and did a few things in technical art field such as shaders/integration in UE4. In addition to this job and still for RyseUp, I did some works ordered by Eden Games and other customers.

CG Generalist/Environment Artist at Kenzan Technologies

Geneva, Switzerland

November 2013 - July 2015

I started my work at Kenzan on promotional stuff for Omega ( swiss made watches ), on some diferent brands from them like "Orbis", "Dark side of the moon", and "Sochi 2014". Most of the videos I've made for their was displayed into an "holographic" viewer, and I handle most of the technical or artistic related stuff on it, except some VFX ( when it comes too technical for me, like krakatoa or realflow, which I don't know how to use for now ). Then I worked as an Environment Artist on "Teo et Leonie" ( a TV serie project under the Unreal Engine 4 ). Back home, and along these two years, I always liked to work to improve myself as I can't do the way I'd like at Kenzan.

Intern CG Artist at Upper Byte

Lyon

I did some LowPoly Modeling/Texturing ( Handpaint Workflow ) for the 2D plateformer game HeartZ.